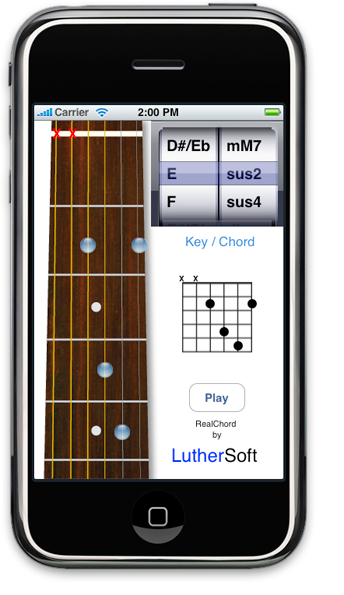 RealChord is a simple, yet extensive guitar chord library, with high quality audio samples of each chord. Featuring 28 chords for each of the 12 musical notes, RealChord has every chord you'll likely need, whether you're a novice or a more advanced player.
Each chord is displayed both on an actual guitar neck, as well as in the standard tab notation you'll see on sheet music.
RealChord is available for the iPhone and iPod touch on the iTunes App Store.
Here's how it works. Select the key and chord type from the "picker". RealChord will automatically show you the fingering for that chord. To hear a sample of the chord, click the "Play" button.
If you have any questions or suggestions, please email them to support@luthersoft.com.